Welcome to Our Practice
When you're searching for a dentist for yourself and your family, you want to find a practice that provides a combination of high quality dentistry and gentle patient care. At Crescent Lake Dental, Dr. Marsack and his staff members are ready to help you maintain a healthy and attractive smile. Whether you need emergency service or you're searching for a caring dentist for your children, Crescent Lake Dental is here to help.

Dr. Marsack has been practicing dentistry in the greater Waterford area for more than 30 years. He established Crescent Lake Dental because he wants to provide the type of dental care that he wants for his own family. Customers benefit from Dr. Marsack's decades of experience and gentle, reassuring manner.

If you're tired of making a dental appointment and sitting in the waiting room for an hour, you'll be pleasantly surprised by your visit to Crescent Lake Dental. Each member of our team works hard to ensure that patients are seen on time with minimal wait times. We realize that our patients lead busy lives, so convenient evening and Saturday appointments are available.

No one wants to experience a dental emergency, but you deserve prompt, professional assistance when an emergency occurs. Crescent Lake Dental offers emergency appointments for those who are dealing with painful dental issues so that patients can find relief as soon as possible.

Proper dental care is one of the best gifts that you can give your entire family. When you give your children a foundation of excellent oral care, they'll enjoy healthy smiles for the rest of their lives. Crescent Lake Dental provides a home for dental care for each member of the family. Whether you're taking your toddler to his first dentist appointment or you need a block of appointments for several family members, we'll accommodate your schedule while treating each of your loved ones with the ultimate care.
Dr. Marsack offers a variety of dental services to meet the needs of our patients. Services offered at Crescent Lake Dental include: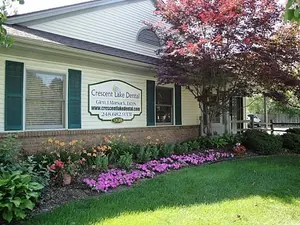 Comprehensive oral exams
Fillings
Extractions
Non-surgical gum therapy
Oral cancer screenings
Dr. Marsack also offers high quality cosmetic dental services, including:
Implant restorations
Partial dentures
As soon as you enter Crescent Lake Dental, you'll notice our relaxed, comfortable atmosphere and friendly staff members. We realize that visiting the dentist probably isn't on your list of favorite things to do, but we're ready to help you through every step of the process.
You don't want to trust the oral health of your family to just any dentist. Instead, choose a practice that truly values each patient. Dr. Marsack is committed to offering honest dental care that you can trust.
Crescent Lake Dental is currently accepting new patients! We accept most major dental insurances, and we will file all of the insurance paperwork and claims for you. In addition, our practice accepts credit cards and offers the Care Credit financing program. Ask about our senior citizen discounts!
If you have any questions about our providers or services, please contact Crescent Lake Dental today. We look forward to meeting the dental needs of your family and exceeding your expectations.
We also service patients in White Lake and West Bloomfield.

Did you know?
The second most
disease in the United
after the common cold is
decay!