Posts for: February, 2019
By Crescent Lake Dental-Glen J Marsack
February 14, 2019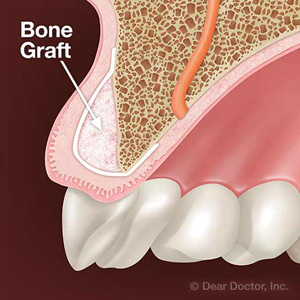 Dental implant technology has advanced at such an astounding rate in recent years that you can now walk into a dentist's office with a problem tooth and out the same day with a new one. Unfortunately, not all dental situations allow for this possibility.
For example, you might be considering an implant many years after losing a tooth. But there's a potential problem: there might not be enough supporting bone. While an implant might still be possible, inadequate bone complicates the matter.
Because implants are essentially tooth root replacements, they require a certain amount of bone for stability and the best attractive outcome. As a general rule, implants need to be surrounded by  at least 1.5-2.0 millimeters of healthy bone to support an implant. But you might not have enough if your tooth has been missing for awhile, regardless if you have or haven't worn dentures or other restorations.
That's because bone has a life cycle in which older cells die and newer ones form to take their place. As we chew or bite, the force generated travels up through the teeth to the bone to stimulate this new growth. Without a tooth the bone doesn't receive this stimulus, which can slow the growth rate. Over time the affected bone can lose its volume and density.
If we find you've experienced loss to the point your bone won't support an implant, that doesn't automatically mean this popular restoration is out of the picture. But it will require us first performing a procedure known as augmentation or bone grafting to help rejuvenate some of the lost bone.
With grafting, we place processed bone grafting material in the jaw through a minor surgical procedure to form a scaffold for new bone to grow upon. After several months this can result in several millimeters of new growth maintaining the width of the underlying bone, which in turn may be able to support an implant.
Bone grafting is quite common, often performed at the same time as tooth extraction if there's going to be a time lag before installing an implant. Even if performed later, though, it can successfully rejuvenate lost bone and make it possible for you to take advantage of durable, life-like implants.
If you would like more information on dental implants, please contact us or schedule an appointment for a consultation. You can also learn more about this topic by reading the Dear Doctor magazine article "Dental Implants after Previous Tooth Loss."
By Crescent Lake Dental-Glen J Marsack
February 04, 2019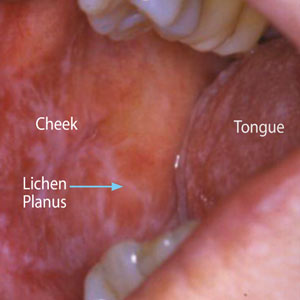 If you notice a small sore or a change in the appearance of the tissues inside your mouth, don't panic. It's likely a common, minor ailment that appears on a lot of skin surfaces (like the wrists or legs) besides the cheeks, gums, or tongue.
These small sores or lesions are called lichen planus, named so because their coloration and patterns (white, lacy lines) look a lot like lichen that grow on trees or rocks. They're only similar in appearance to the algae or fungi growing in the forest — these are lesions thought to be a form of auto-immune disease. Although they can affect anyone, they're more common in women than men and with middle-aged or older people.
Most people aren't even aware they have the condition, although some can produce itching or mild discomfort. They're often discovered during dental checkups, and although they're usually benign, we'll often consider a biopsy of them to make sure the lesion isn't a symptom of something more serious.
There currently isn't a cure for the condition, but it can be managed to reduce symptoms; for most people, the lesions will go away on their own. You may need to avoid spicy or acidic foods like citrus, tomatoes, hot peppers or caffeinated drinks that tend to worsen the symptoms. If chronic stress is a problem, finding ways to reduce it can also help alleviate symptoms as well as quitting tobacco and reducing your alcohol intake.
Our biggest concern is to first assure the lesion isn't cancerous. Even after confirming it's not, we still want to keep a close eye on the lesion, so regular monitoring is a good precaution. Just keep up with the basics — good oral hygiene and regular checkups — to ensure you have the most optimum oral health possible.
If you would like more information on lichen planus lesions, please contact us or schedule an appointment for a consultation. You can also learn more about this topic by reading the Dear Doctor magazine article "Lichen Planus: Mouth Lesions that are Usually Benign."